Sentence Rearrangement - The Night Watch
A. In 17th-century Amsterdam, it was highly common for the guilds to commission portraits of themselves wearing their uniforms and holding weapons. B. It was Rembrandt's riveting interplay of light, motion, texture and expression transformed a commonplace commission into a masterwork. C. Its status and critical acclaim, though, have little to do with its subject matter: a civic-guard group tasked with keeping watch on the city walls. D. The painting Militia Company of District II Under the Command of Captain Frans Banninck Cocq, better-known as The Night Watch, is probably Rembrandt's most famous work.
ACDB
DBAC
ADCB
DCAB
Correct Answer

Choice D. DCAB
Detailed Solution
This is a slightly tricky question. Both A and D look like good options to start the paragraph. Let us consider each of these in turn. Sentence A is about 17th-century Amsterdam, and how it was a common for guilds to commission portraits of themselves "in their uniforms, holding weapons". D, on the other hand, talks of a famous painting by Rembrandt, called The Night Watch. Now, it is clear that Rembrandt's painting is the main focus of the paragraph, as the rest of the sentences relate to the painting. So, D is likely to be the first sentence of the paragraph. C begins with "its status and...". The pronoun 'its' here refers to the painting. As D is the only sentence with the painting as the subject, C follows immediately after D. C states that the reason why the painting became critically acclaimed had nothing to do with it being a painting of a civic guard group. Sentence A explains why: it was common for guilds to commission portraits of themselves in 17th-century Amsterdam. So, A follows C. Finally, B follows A, explaining how Rembrandt transformed a commonplace commission into a masterpiece. So, DCAB is the right order. Correct Answer: DCAB
Our Online Course, Now on Google Playstore!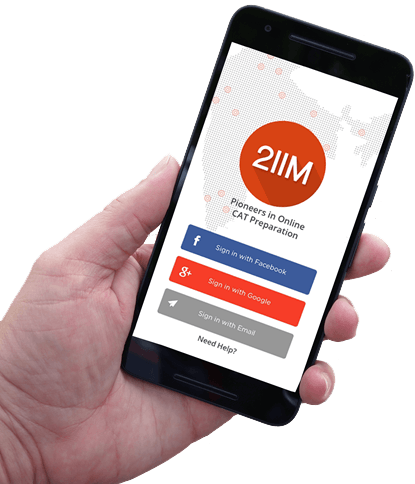 Fully Functional Course on Mobile
All features of the online course, including the classes, discussion board, quizes and more, on a mobile platform.
Cache Content for Offline Viewing
Download videos onto your mobile so you can learn on the fly, even when the network gets choppy!