CAT DI LR section has become increasingly tough beginning from 2015. However, Understanding the basics of Bar graphs, Pie Charts, Multiple graphs, Line Graphs etc forms an integral part of solving tougher CAT level DI LR questions for the CAT Exam. Make use of 2IIMs Free CAT Questions, provided with detailed solutions and Video explanations to obtain a wonderful CAT score. If you would like to take these questions as a Quiz, head on here to take these questions in a test format, absolutely free.
CAT DILR : 2017 slot 2 questions
Dorms
At a management school, the oldest 10 dorms, numbered 1 to 10, need to be repaired urgently, The diagram represents the estimated repair costs (in Rs. Crores) for the 10 dorms. For any dorm, the estimated repair cost (in Rs. Crores) is an integer. Repairs with estimated cost Rs. 1 or 2 Crores are considered light repairs, repairs with estimated cost Rs. 3 or 4 are considered moderate repairs and repairs with estimated cost Rs. 5 or 6 Crores are considered extensive repairs.

Further, the following are known:
1. Odd-numbered dorms do not need light repair; even-numbered dorms do not need moderate repair and dorms, whose numbers are divisible by 3, do not need extensive repair.
2. Dorms 4 to 9 all need different repair costs, with Dorm 7 needing the maximum and Dorm 8 needing the minimum.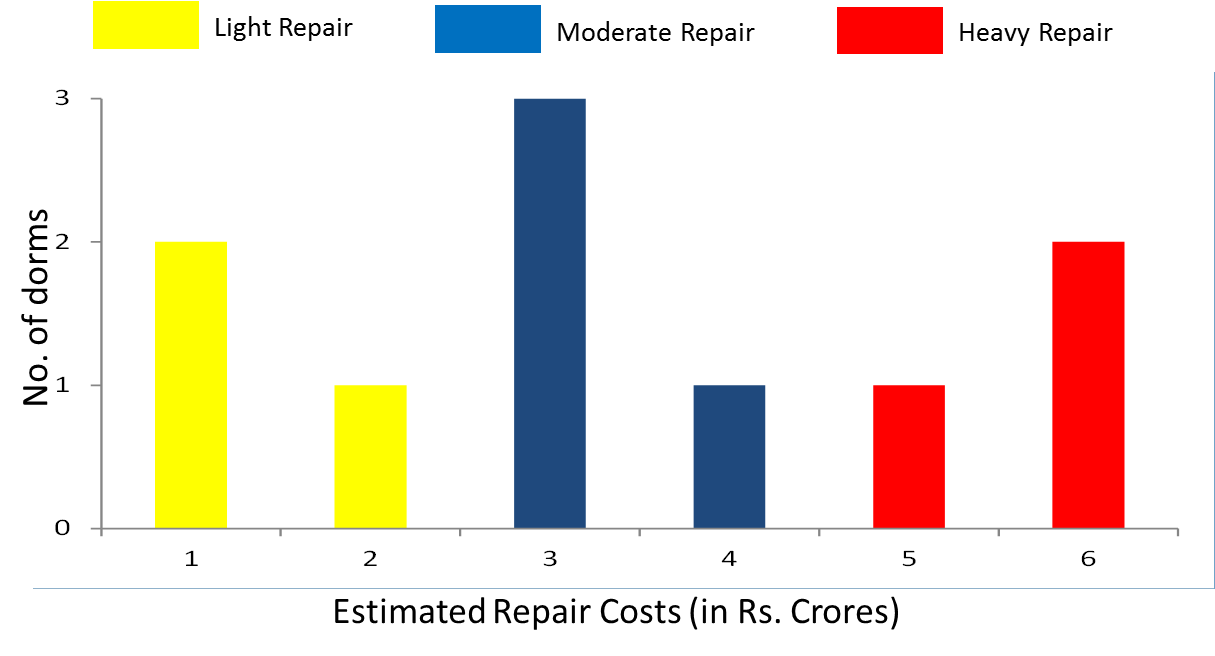 CAT DI LR Previous year questions

Which of the following is NOT necessarily true?



Dorm 1 needs a moderate repair
Dorm 5 repair will cost no more than Rs. 4 Crores
Dorm 7 needs an extensive repair
Dorm 10 repair will cost no more than Rs. 4 Crores

---

CAT DI LR Previous year questions

What is the total cost of repairing the odd-numbered dorms (in Rs. Crores)? (TITA)



---

CAT DI LR Previous year questions

Suppose further that:
1. 4 of the 10 dorms needing repair are women's dorms and need a total of Rs. 20 Crores for repair.
2. Only one of Dorms 1 to 5 is a women's dorm.
What is the cost for repairing Dorm 9 (in Rs. Crores)? (TITA)



---

CAT DI LR Previous year questions

Suppose further that:
1. 4 of the 10 dorms needing repair are women's dorms and need a total of Rs. 20 Crores for repair.
2. Only one of Dorms 1 to 5 is a women's dorm.
Which of the following is a women's dorm?



---