CAT DI LR section has become increasingly tough beginning from 2015. However, Understanding the basics of Bar graphs, Pie Charts, Multiple graphs, Line Graphs etc forms an integral part of solving tougher CAT level DI LR questions for the CAT Exam. Make use of 2IIMs Free CAT Questions, provided with detailed solutions and Video explanations to obtain a wonderful CAT score. If you would like to take these questions as a Quiz, head on here to take these questions in a test format, absolutely free.
Logical Reasoning for CAT: Grid Puzzle
Embarassing Task
5 teams A, B, C, D, and E participate in a tournament where they have to perform 5 embarrassing tasks like preparing for CAT and XAT. The tasks are numbered from 1 to 5. Each tasks has an interesting points' scheme – the team finishing the task first receives 50 points, the team finishing second receives 40 points, third one gets 30 points, 4th placed team receives 20 points and the one that finishes last receives 10 points. If a team does not finish the task in the stipulated 60 minutes, it gets 0 points. Further, for every minute 'saved', a team gets an additional point. As in, if a team finishes second and finishes the task in 53 minutes, the team will get 40 + 7 = 47 points.

Thankfully, all teams finished all tasks within the stipulated 60 minutes.

The times taken by the teams to finish the tasks are given in the table provided below, with some numbers being omitted.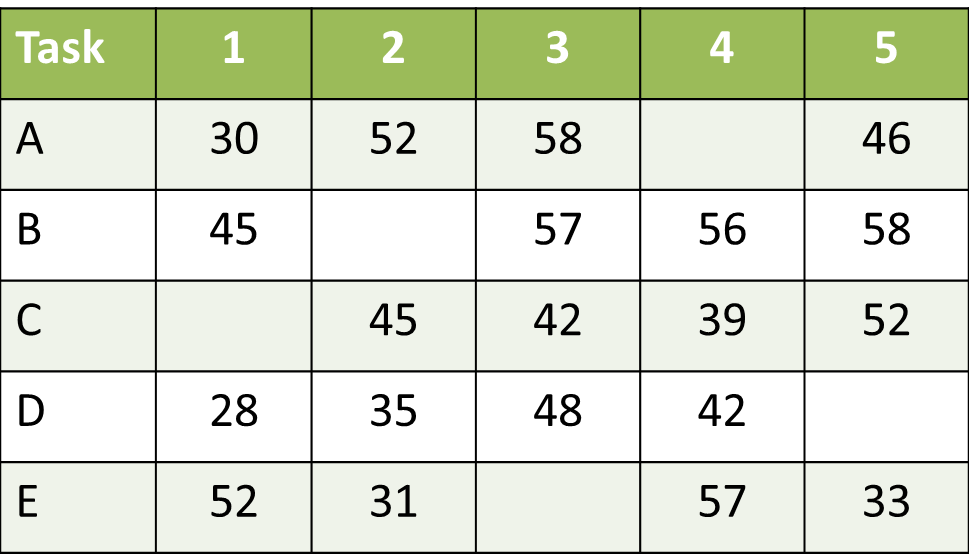 We know that team D won the overall championship with an overall score of 286 points, while team B ended last with an overall score of 178 points. It is known that a total of 254 points were scored in game 1. Game 3 was the toughest where only a total number of 193 points were scored. Total number of points scored is 1126.


CAT LR DI Grid Puzzle

How many minutes does C take for game 1?



---

CAT LR DI Grid Puzzle

How many minutes does A take for game 4?



---

CAT LR DI Grid Puzzle

How many minutes does B take for game 2?



---

CAT LR DI Grid Puzzle

How many minutes does D take for game 5?



---

CAT LR DI Grid Puzzle

What is the total number of points scored by A?



---