Sentence Elimination- Capturing Photographs
There are few more emotional ways to view history than through the lens of a camera.
To take photographs is to hold one's breath when all faculties converge in a face of fleeing reality.
They are not about dialing for quotes or quick sound bites.
Photographs convey the ultimate journalistic credo: to be present at the site of action at the right time, and alive to capture the fleeting moments that transform our lives.
Detailed Solution
Sentence A declares that the most emotional way to view history is through photographs. Sentence B talks of what taking a photograph involves. Sentence C says what "they" are not about- quotes or sound bites. Sentence D states that photographs convey the ultimate journalistic credo of being in action at the right place at the right time. So what the ideas link the given sentences? Sentences B and D share a common idea that photographs capture "fleeting moments" and "fleeing reality". Both sentences C and D relate to photo journalism. Sentence D talks of photographs conveying the "ultimate journalistic credo" of being at the site of action at the right time to capture moments that though short-lived, are life-changing. Sentence C clarifies what kind of journalism photos are not about- they aren't about getting quotes or quick comments. We see a common thread emerging here. In a paragraph, we could order sentence D first, as it talks of photos conveying the ideal of journalism, and then sentence C which talks about what kind of journalism photos aren't about, and follow it up with sentence B, which talks of what taking photographs involves. DCB makes a cogent paragraph. Sentence A is the only one that voices a completely different idea- photos as emotional ways of looking back at history. So this is the sentence to be eliminated. Correct Answer: Choice (a)
Our Online Course, Now on Google Playstore!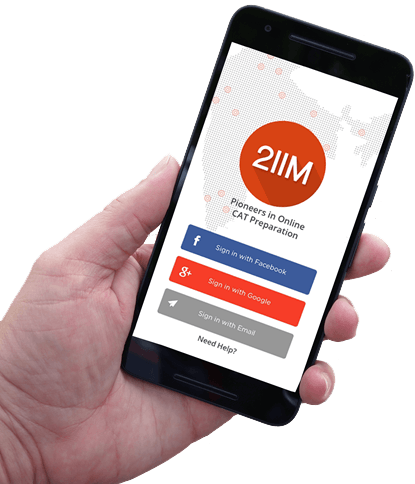 Fully Functional Course on Mobile
All features of the online course, including the classes, discussion board, quizes and more, on a mobile platform.
Cache Content for Offline Viewing
Download videos onto your mobile so you can learn on the fly, even when the network gets choppy!