Sentence Elimination- War and Games
In 400 BC, Leonidas' 300 Spartans died at Thermopylae in Greece while their countrymen vied at Olympia.
Troops were forbidden to enter the sacred Olympic precinct; but they were there in 420 B.C. when a Spartan attack was feared. Spartans had been banned from competing.
And yet, Spartan-like, America was represented at the Games while she was still fighting in Vietnam.
Civilization has advanced since then and—commendably — Olympiads of 1916, 1940 and 1944 were cancelled due to worldwide conflagration.
Detailed Solution
Three sentences- A, B and C- mention Sparta. It is important, however, to understand the context to see which sentence is to be eliminated. Sentence A tells us that though Spartans were at war with Greece and dying, some of their countrymen were competing at that time at the Olympia. Sentence C talks of how America, like Sparta, was represented at the Games while still fighting in Vietnam. We see that there is a link between sentences A and C. Both talk of warring countries still competing at the Olympic Games. C follows A, as it compares America to Sparta. Now we need to look at a third sentence that will fit with these to form a paragraph. Sentence B tells that while troops were normally not allowed in the Olympic precinct, they were there in 420 BC, as war with Sparta was thought to be imminent. Sentence B provides an example of an exception made to the Olympic rules at a time war was expected. Sentence D talks of the cancellation of Olympiads in 1926, 1940 and 1944 due to world wars. Of the two sentences above, we see that sentence D fits in with the idea of competing at Olympic Games while at war, discussed in sentences A and C. ADC forms a cogent paragraph. Sentence B is hence the one to be eliminated. Correct Answer: Choice (b)
Our Online Course, Now on Google Playstore!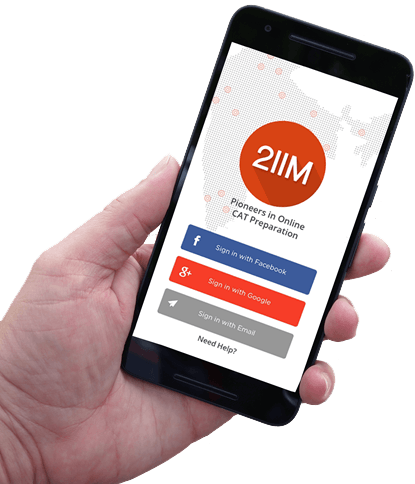 Fully Functional Course on Mobile
All features of the online course, including the classes, discussion board, quizes and more, on a mobile platform.
Cache Content for Offline Viewing
Download videos onto your mobile so you can learn on the fly, even when the network gets choppy!