Possibler Integer Solutions
Q.17: 2a + 5b = 103. How many pairs of positive integer values can a, b take such that a > b?

7
9
14
15
Correct Answer

Choice A. 7
Explanatory Answer
Click to view the explanation as a slide show
Detailed Solution
Let us find the one pair of values for a, b. a = 4, b = 19 satisfies this equation. 2×4 + 5×19 = 103. Now, if we increase 'a' by 5 and decrease 'b' by 2 we should get the next set of numbers. We can keep repeating this to get all values. Let us think about why we increase 'a' by 5 and decrease b by 2. a = 4, b = 19 works. Let us say, we increase 'a' by n, then the increase would be 2n. This has to be offset by a corresponding decrease in b. Let us say we decrease b by 'm'. This would result in a net drop of 5m. In order for the total to be same, 2n should be equal to 5m. The smallest value of m, n for this to work would be 2, 5. a = 4, b = 19 a = 9, b = 17 a = 14, b = 15 .. And so on till a = 49, b = 1 We are also told that 'a' should be greater than 'b', then we have all combinations from (19, 13) … (49, 1). 7 pairs totally. Answer choice (a) Correct Answer : 7
Our Online Course, Now on Google Playstore!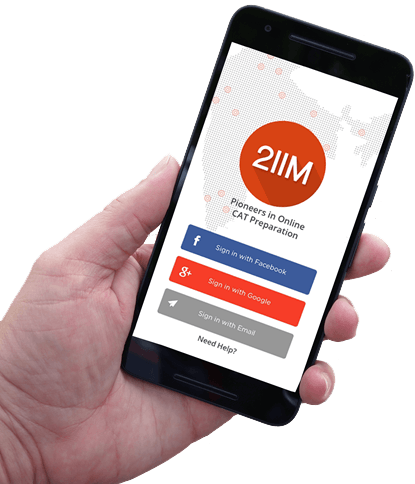 Fully Functional Course on Mobile
All features of the online course, including the classes, discussion board, quizes and more, on a mobile platform.
Cache Content for Offline Viewing
Download videos onto your mobile so you can learn on the fly, even when the network gets choppy!
More questions from Number System
There are many ways to skin a CAT. To skin CAT, one needs to be good at finding how many ways there are.