The question is from regular polygon. It tests our understanding of angles in a regular polygon. CAT Geometry questions are heavily tested in CAT exam. Make sure you master Geometry problems. Triangles are heavily tested, the wonderful infinite-sided polygon that is the circle is also heavily tested. In between these two lies this great mass of regular polygons.
Question 8: ABCDE is a regular pentagon. O is a point inside the pentagon such that AOB is an equilateral triangle. What is ∠OEA?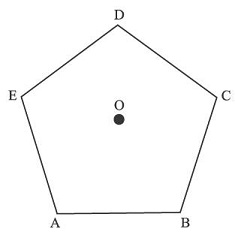 66°
48°
54°
72°
---
Best CAT Online Coaching
Try upto 40 hours for free
Learn from the best!
---
2IIM : Best Online CAT Coaching.
---
Video Explanation
---
Best CAT Coaching in Chennai
---
CAT Coaching in Chennai - CAT 2022
Limited Seats Available - Register Now!
---
Explanatory Answer
Method of solving this CAT Question from Regular Polygon

: Creating a new triangle by joining two existing ponits would help.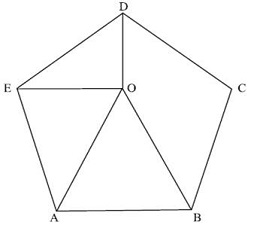 Join OE and OD.
Internal angle of regular pentagon = 108°
∠EAB = ∠EDC = 108°
∠OAB = 60°
∠EAO = 48°
AO = OB = AB as the triangle is equilateral.
AB = AE as this is a regular pentagon.

Triangle AEO is isosceles as AO = EA.
∠AEO = ∠AOE = x (say)

In triangle AEO,
∠OAE + 2x = 180°
48° + 2x = 180°
2x = 132°, or x = 66°

The question is " What is ∠OEA?"
∠OEA = 66°
Hence, the answer is 66°
Choice A is the correct answer.